Planning a party is no small affair. You have the guest list to consider, catering, and most of all, the venue. The right venue can be the difference between a raging party or one that dies like a whimper. Fortunately, there are plenty of options for venues. However, if you're looking to impress, consider a party boat. There is nothing quite like a party out on the open water. Are you looking for an unforgettable experience? A party boat makes the perfect venue. We're sharing our top five reasons to try a party boat.
A tour we think you'll love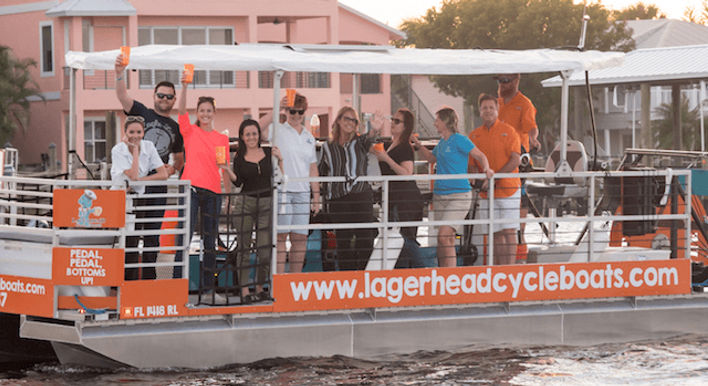 Cycleboat Cruise
From $44
View tour
1. It's a Unique Party Experience
It's isn't every day that you get to party on the water while eating, sipping from your favorite beverage. You get the chance to feel the wind in your hair, the cool ocean breeze on your skin, and maybe even some swimming time.
After one time on a party boat, you'll know it's a unique party experience.
2. It's a Safe Place to Party
Being on the open seas is a safe place to party. The captain controls the ship, and you and your guests can enjoy the party until you dock at the port.
Party boat companies experience parties out at sea daily and know how to keep it safe for you and your guests. Should any issues arise, they will have an emergency preparedness plan.
You can relax and know that everything is being handled behinds the scenes.
3. Everything Is Handled For You
From the tour stops to the food to the captain, everything is handled when you try a party boat. Your guests will love the chilled-back vibe and the chance to soak up the sun.
Party boats offer the opportunity to kick back without the hassle of getting every experience ready. It's all part of the party boat package.
4. Plenty of Photo Opportunities With an Unforgettable Background
There are plenty of chances to take selfies of you and your guests throughout the party boat experience. Your friends will be sure to tag your party on social media as they enjoy taking photos with a gorgeous background.
Whether you're partying in the daytime or the nighttime, you'll have amazing photo opportunities while out at sea.
5. Private and Exclusive
Attending a private and exclusive party makes it all the more fun! Enjoy your guests and party as loud as you want. The waves won't mind!
One of the best reasons to try a party boat is to have more privacy than other party venues. With more privacy, your guests will feel more free to let their hair down and have fun.
Looking for a Great Party Venue? Try a Party Boat!
If you're planning a party in Fort Lauderdale, try a party boat! Fort Lauderdale Party Boats offer party boat rentals for day and night. We provide tour stops to keep the party going on and off the party boat.
For more information, please visit our site for details.