Roughly 84% of Americans report feeling stressed, each and every week. Are you looking to unwind, have fun, and make memories? Are you looking to plan a cruise that's not your typical cruise?
If so, the only thing left to do is begin planning your Fort Lauderdale booze cruise and enjoy some fun in the sun. Renting a party boat is the perfect thing for your group of friends that no one would ever expect, and we're here to help.
A tour we think you'll love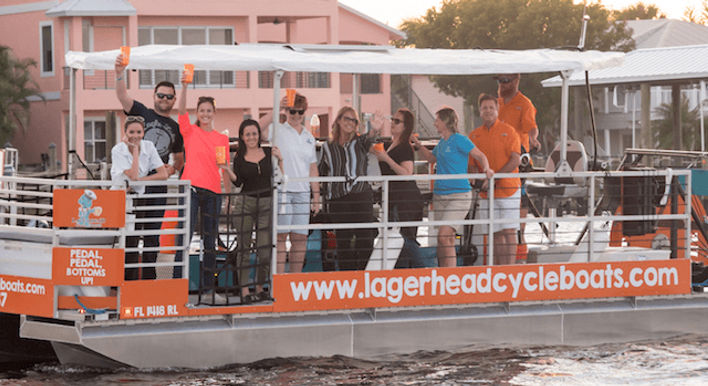 Cycleboat Cruise
From $44
View tour
Check out these need-to-know event planning tips below and get ready to start party planning.
Consider the Number of Guests
Depending on the size of the boat you charter, you'll want to ensure you count the number of people that will attend the party accurately. You want to know the number of guests so you can plan to have enough food and drinks for everyone.
You don't want to invite so many people that it's challenging to move freely around the boat. If you're unsure how many people to invite, inquire about the maximum number of people that can be on the boat.
This will help you trim down your guest list and move forward with further party planning.
Don't Think About the Weather
it's no secret that the weather forecast can send you into a downward spiral thinking about how it will affect your day, which is why you shouldn't worry about it. When the day comes for you and your crew to enjoy the booze cruise, only think positive thoughts and be ready to have a good time.
It doesn't matter if it rains, snows, or if the sun shines, you're going to have fun regardless and enjoy your time with your family and friends.
Keep Things Simple
Being on a boat all day or for a few hours is an activity in its own right, so you should keep things as simple as you can. When planning the event, don't feel like you have to have an activity to fill every moment you're on the boat.
Instead, create a relaxing atmosphere for party guests to enjoy taking the time to mingle with each other and enjoy their beverages.
If you're on the cruise and there's a chance you'll dock on an island or pier for a specified amount of time, you could plan to do something when you dock.
But, again, keep things simple and don't feel pressured to keep guests entertained for the whole day.
Food Matters
When planning out the food you'll have aboard the boat, think about your guest and the type of food. Some people might get motion sickness; therefore, you don't want them to worry about holding multiple plates and silverware.
It might be a great idea to serve finger foods such as fruits, vegetables, or hamburger sliders. Try to keep things light to avoid any upset stomachs. Ocean sickness is no joke and when you involve food that's not a good time, so keep it simple with your choices.
Planning a Fort Lauderdale Booze Cruise
Planning a Fort Lauderdale booze cruise isn't for the faint of heart, but it can make for a wonderful time if done right. Consider the number of people you're inviting on the cruise, and don't forget to select the right food.
Don't forget to select the boat where you'll host your party? Contact Lagerhead Party Boatsand book your cruise now.