Who we are
Less Stress And More Fun On The Water
Welcome to Ft. Lauderdale Party Boats! We are not your average boat tour. Our captains specialize in getting people out on the water, having less stress and more fun. How do we do that? By providing the best boat tours in Fort Lauderdale.
Let us take you out for a relaxing cruise, stopping to swim and explore the sand bars. How about a Fort Lauderdale booze cruise with up to 16 of your friends? Or a sunset cruise to watch the sun slowly dip into the ocean? Our Fort Lauderdale boat tours are available as a private charter or public charter. Our private charters are completely customizable. The fun choice is yours. Just leave the details to us.
We'll provide everything you need, except the food or drinks. Whether you prefer to stay onboard one of our floating parties or do some bar hopping, we can help you plan the perfect day trips for your occasion. No need for a designated driver. Our captain has you covered. Have any special requests? No problem. Let's get this party started!
Explore Our Options For You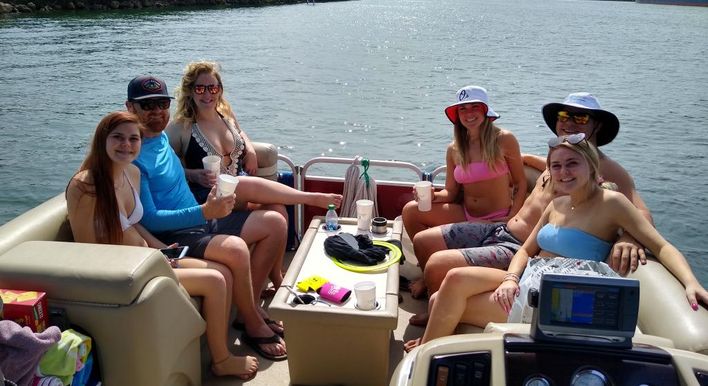 Party with up to 12 of your friends on a customized boating experience of Fort Lauderdale. There are a variety of activities available. Let Lagerhead Party Boats assist you with planning the perfect party! We're here to make sure you have a fantastic experience, whether you're celebrating a special occasion or simply on vacation. It is our duty!
Our most popular tour by boat is the Pontoon Private Party Boat Cruise. We custom boating experience for you!
We offer daily 4, 6 and 8 hour tours as well as 2 and 3 hour sunset tours. See our online calendar for live up to date openings!
*Please note captains fees are paid separately the day of*
2 hour: $450 (Boat fees $350 Captain Fee's $100)
3 hour: $600 (Boat fees $450 Captain Fee's $150)
4 hour: $750 (Boat fees $550 Captain Fee's $200)
6 hour: $975 (Boat fees $675 Captain Fee's $300)
8 hour: $1150 (Boat fees $750 Captain Fee's $400)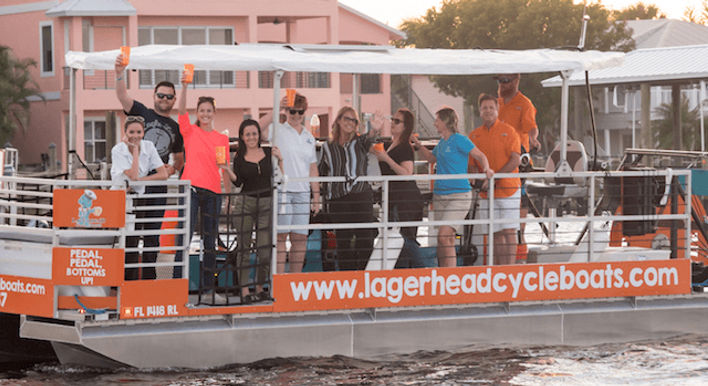 This is the best way to go when you want to party with a few friends on the ICW. Perfect for groups that want to make friends.
Just show up with your drinks and get ready to party! The cycleboat cruise can be powered by pedaling or by our gas engine. Pedaling is optional, it's totally up to you. Just show up with your drinks and get ready to party!
Groups smaller than 6 are paired with other groups, unless you book a private tour
Pedal, pedal…bottoms up! It's time to book your party boat cruise! This is the party everyone's talking about. Fun…guaranteed!
Remember to book your cruise as soon as you have your dates settled because our schedule tends to fill quickly!
Join us in a fun, action-packed day on the best Fort Lauderdale booze cruise you'll find! Our boats are specially designed for maximum fun and relaxation.
This pedal cruise is easy enough for all ages and fitness levels to pedal. if you're not feeling it or just feel like kicking back, don't worry. We have a gas engine as well. Pedaling is not required!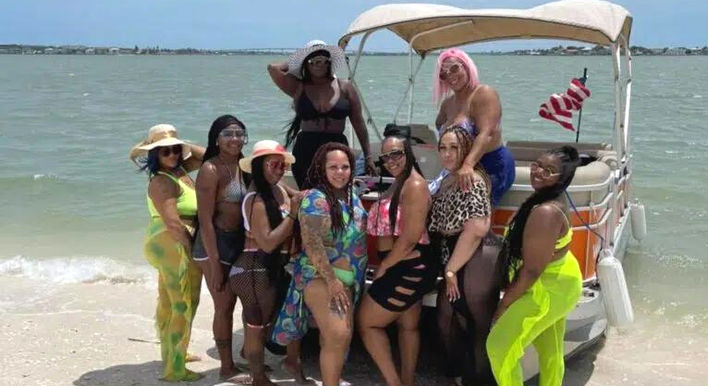 No More Overcrowded Bars
Welcome to the home of the original Fort Lauderdale bachelorette party cruise! We want your party to be as unique as you are. That's why we have designed the perfect boat tour for bachelorette parties.
Instead of spending your time bar hopping from one crowded bar to another, and assigning one person to be the designated driver, let us help you. We'll be your designated driver. We've had experience with hundreds of bachelorette parties in Fort Lauderdale every year, and we know how to take care of the details, so you can just show up and have a great time.
You choose the time of day and how much time you would like with the boat. Our Fort Lauderdale boat tours are available for two, three, four, six, or eight hours. Your party can be a relaxing beach day, a late-night sunset party, a fun-filled day of shenanigans, or all three! The Fort Lauderdale beach area is the perfect destination for a memorable bachelorette weekend.
Pricing Overview:
2 hour: $450 (Boat fees $350 Captain Fee's $100)
3 hour: $600 (Boat fees $450 Captain Fee's $150)
4 hour: $750 (Boat fees $550 Captain Fee's $200)
6 hour: $975 (Boat fees $675 Captain Fee's $300)
8 hour: $1150 (Boat fees $750 Captain Fee's $400)
Fort Lauderdale's Best Boat Tours
Your great day on the water will begin when we pick you up in downtown Fort Lauderdale. Once you are on board the boat, the music choice is yours, as all of our boats are equipped with blue tooth sound systems. Our certified captains know all the best places to go on Fort Lauderdale's Intracoastal Waterway, including a few secret spots. As you sit back and relax, we will point out some of Florida's million-dollar yachts and homes along the way. After a great time on the water, we will take you back into downtown Fort Lauderdale.
Custom Boat Tours
Spend the day on the water with us and we'll provide you with everything you need to have a fantastic time on the water! All you need to do is sit back and relax.
Knowledgable Captains
Our boat captains are certified masters in boating. They are locals and have spent most of their lives on waters. They can give you great ideas and suggestions for making your trip even better because they know so much about the waters and wildlife, the local secrets, and the party islands!
Top Rated
We have received excellent reviews on a number of travel review websites. We are mainly recommended by visitors from all over the world who come to the Fort Lauderdale to have fun.
Lovely day on the water with an amazing captain! So accommodating, flexible and informative. Our entire family had a wonderful day!
Great crew, BYOB and an incredibly fun time seeing the houses and yachts, my family and I would definitely do it again!
Drew and team were super Knowledge about the area and were able to pivot when needed. Had such an amazing time for a Bday party
Benjamin A
14th December 2022
Our captain chance was great. Took us too some really cool spots. Family had a blast. Thank you. We saw dolphins and manatees. Boat was clean and had what we needed to have a great time.
Tooly123
8th November 2022
Had so much fun and crew was fantastic! We booked for a corporate Team building and had a great Time! Thanks!
Frances C
13th October 2022
We had a pontoon. Everything was great and Captain Dewayne was as well! We had the 8hr cruise - we were able to visit multiple sandbars and stop for lunch.
Michelle D
5th September 2022
We had an amazing time! Our caption and 1st mate were so laid back and nice! I would recommend this to anyone! So much fun!!
Darla S
4th September 2022
We had the best time renting out a private cycle boat! Was such a fun ending to our bachelorette party. Highly recommend Lagerhead Cycleboats for any party activity! Thank you!
Samantha Blackburn
29th August 2022
The option to use Bluetooth music while riding the boat with friends celebrating her birthday. The speakers were perfect and we could even hear ourselves singing.
Mz Reesie R
29th August 2022
Wonderful time ! Drew was a great captain and took us a couple sandbars to enjoyGreat boat, great time - would highly suggest using them
Lrine0611
15th August 2022
Previous
Next
Location
Discover The Venice Of America
Fort Lauderdale's Intracoastal Waterway is a series of canals, saltwater rivers, bays, and inlets. It allows boats to travel the Atlantic and Gulf coasts without going out into the open ocean. The "Venice of America" title comes from the romantic view of the winding canals. It's common to see some of the biggest and most expensive yachts in the world navigating the Intracoastal Waterway.
Fort Lauderdale Beach is 7 miles of white sand that borders the warm, clear water of the Atlantic Ocean. Swimming, snorkeling, sunbathing, boating and people watching are all popular activities here. You'll find basketball and volleyball courts at Fort Lauderdale Beach Park, along with public restrooms and showers.
Frequently asked questions
Most frequent questions and answers
Recent news
Are you ready to have a great time in Florida? It's the ultimate destination for any occasion, especially for birthdays. If you're looking for an unforgettable way to celebrate your birthday, why not plan a boat party in Fort Lauderdale?…
Did you know that the top reasons why people choose to organize boat parties are because they want to have stunning views, to be able to choose their own locations, and to have lots of space for mingling with their…
Visiting Fort Lauderdale is a laid-back fun in the sun type of experience. There is so much to enjoy, with miles of white sand beaches, great food, outdoor activities, and indoor cultural events. At night, the city comes alive. Nightclubs,…