A birthday party is a special day. You get together with your friends and let loose. Perhaps you celebrated at a restaurant or with a backyard BBQ.
But what if we told you there's a better way to celebrate a birthday in Fort Lauderdale?
A tour we think you'll love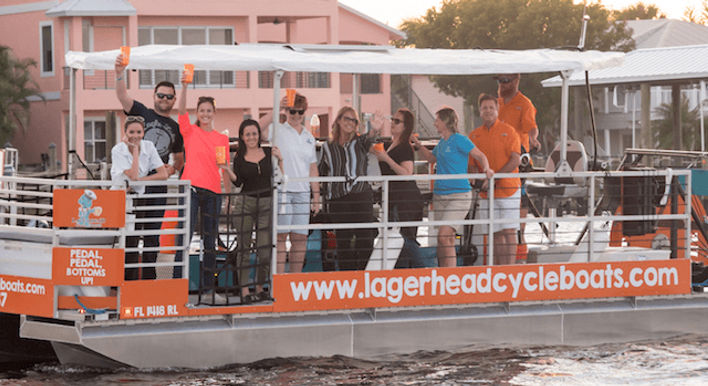 Cycleboat Cruise
From $44
View tour
A party boat is the ultimate way to celebrate a birthday or any fun occasion! Keep reading, and we'll tell you why you should rent a party boat for the best birthday celebration ever.
Experience the Venice of America
Fort Lauderdale sits on the Intracoastal Waterway in the Atlantic Ocean. Stunning views are guaranteed. Your captain will pick you up in downtown Fort Lauderdale, allowing you to see the city skyline from the water.
Other pick-up and drop-off locations are available, just let us know when you make your reservation.
You'll pass by Millionaire's Row to see the beautiful homes on the water's edge, as well as the mega yachts that frequent the area. Fort Lauderdale is a beautiful city, and it's best experienced from the water.
Invite All Your Friends
A birthday party isn't a party unless you have all your favorite people with you. Lager Head Party Boats has two options you can choose from.
Our most popular boat rental is our pontoon party boat. This boat can accommodate up to 12 people for an epic cruising experience.
If you'd prefer to bring a few more friends, we have a unique cycle boat! Our cycle boat accommodates up to 16 people for a guaranteed good time.
You can help power the cycle boat by pedaling! The boat has ten cycle seats, allowing you to pedal your way along the water. However, this boat does have an engine, so cycling is not required.
BYOB
What's a birthday boat rental without your favorite drinks? Stock up on your must-have spirits, beer, wine, mixers and snacks, and we'll take care of the rest. We provide coolers, ice, and cups so you can get the party started as soon as you get on board and have a quick safety briefing.
Our boat captains are professionals, but they also love a good time. When you decide to rent a boat for a party, our focus is on making the experience one you'll never forget.
We can also assist with decorations and themes! When you book your party boat, just let us know, and we'll be happy to help.
Customize Your Itinerary
When you rent a party boat from Lager Head, you can choose where to go. If you prefer to be out on the water, we can position the boat in the perfect spot for sunset selfies.
If you prefer a designated driver for bar-hopping, we can arrange that too. Fort Lauderdale features several waterfront bars and restaurants with docks. Your captain can tie the boat off while you head in for shots, snacks or dessert.
Some local favorites are Shooters and Southport Raw Bar. Another local favorite is the Pirate Republic, featured on Diners, Drive-ins and Dives.
Rent a Party Boat for Your Birthday Today
If you have a birthday coming up or any special occasion, get in touch with Lager Head today! We'll be happy to give you information on pricing and availability. We'll also discuss your itinerary plans and what you can expect from your adventure when you rent a party boat.
Life is better on the water. Come find out why with Lager Head Party Boats.